A "friends and family"-type presale last fall saw all the studio and one-bedroom homes snapped up.
By Linda Laban – Realestate.boston.com correspondent
This week, Trinity Stuart Development announced the official launch of sales for the 146 condos topping its Raffles Boston Back Bay Hotel & Residences, a $400 million-plus project on Stuart Street.
A "friends and family"-type presale last fall saw all the studio and one-bedroom homes snapped up. (The studio-type pied-à-terres are not for sale yet, and their starting price has not been disclosed.) Pricing started at $1 million for the studios and $2 million for the one-bedrooms.
"The smallest units always go first and go fast," said Jordan Warshaw, partner at Trinity Stuart Development. "But there's a whole floor of the pied-à-terres, which will come online in the next couple of months." Trinity is a partnership of The Noannet Group, Saunders Hotel Group, and Cain International.
The hotel is due to open next spring, swiftly followed by residence occupancy. Starting prices for the two-bedroom homes is $3.8 million, but it's $9 million and up for the penthouses. Parking at the 131 Dartmouth Street garage is an additional $400 per month.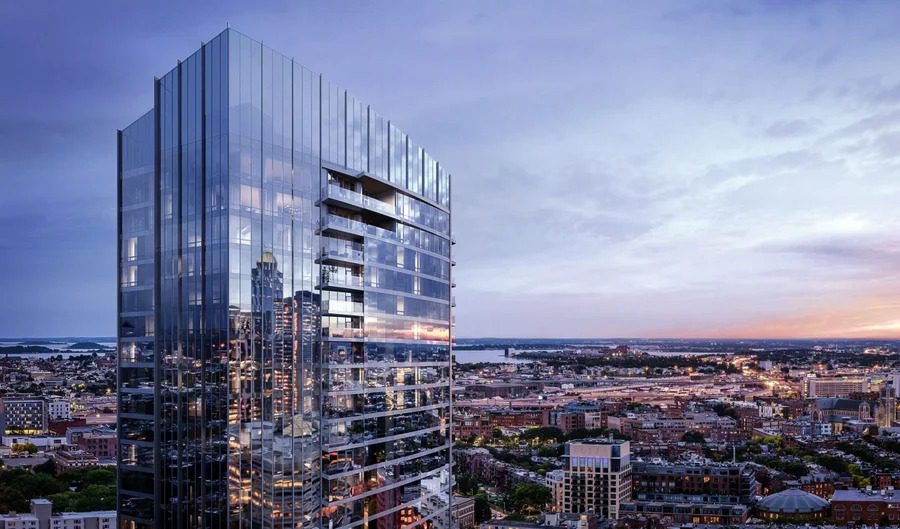 The residences have a separate entrance on Stuart, next to the hotel's. Big wood doors, meant to echo those of a traditional brownstone, lead to the residences lobby, which has a fireplace, and a Colonial-meets-rococo vibe threads throughout the private 21st-floor amenity array of pet spa, indoor dog run, and various lounges, including The Secret Garden tea lounge, a curvy conservatory with silvery velour couches.
"This is not just an expensive hotel with expensive condos on top," Warshaw said. "The units don't scream luxury; we don't even use that word. The finishes are understated, elegant."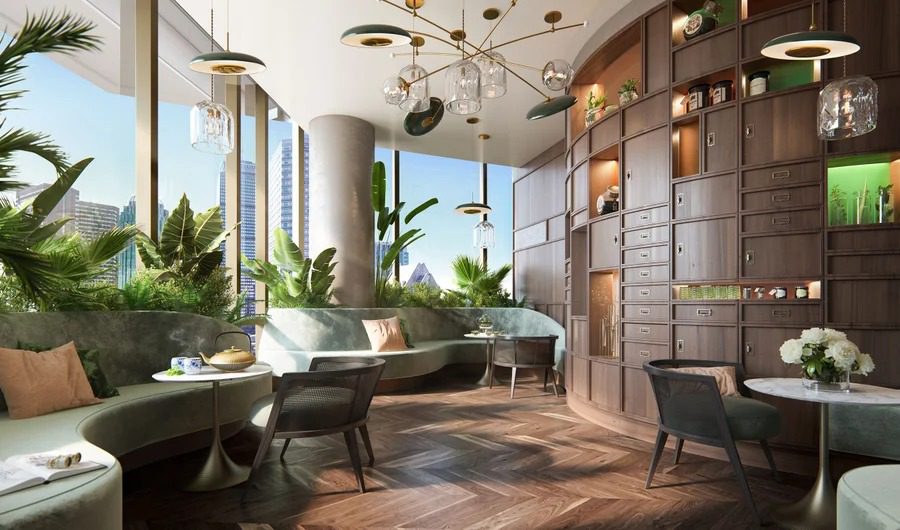 Dark-stained walnut entry doors to the units pair electronic keys with old-fashioned knockers. "We aimed for a contemporary take on a Back Bay town house," Warshaw said.
Standard kitchen finishes include tan-colored European ash cabinetry and gray-flecked ivory Calacatta Illice marble. Three-quarter-inch engineered wood flooring ensures structural stability and a more natural feel.
The marble-clad bathrooms have separate frameless-glass showers, egg tubs, and double vanities, but the pied-à-terres offer a more conventional fitted tub and single vanity.
Floor-to-ceiling windows in the living rooms give city views, or for some, a look all the way to the Harbor Islands. Ceiling heights are 9 feet six inches , with penthouses notching up 10.5 feet.
Sandwiching the three-level Sky Lobby and a full level of operational space, the residences begin on floors 15 and 16, which house 38 pied-à-terres (430-600 square feet). Studio, one-, two-, and three-bedroom condos (approximately 600 to 3,000 square feet) begin on floor 21. The three- and four-bedroom penthouses, ranging from 2,400 to 4,000 square feet, occupy the 34th and 35th floors. Of the penthouses is a duplex with a circular stair connecting the two floors and terraces off the living space and master bedroom.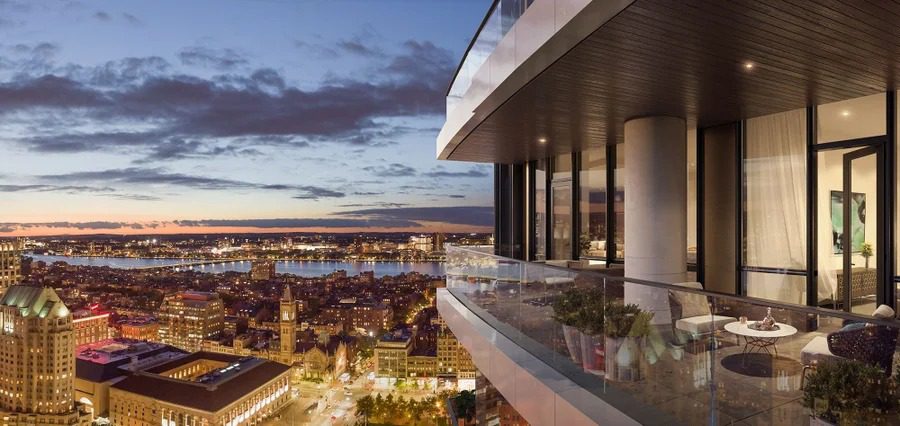 Raffles Boston Back Bay Hotel & Residences (part of Accor)
430 Stuart St., Boston.
Sales: 185 Dartmouth St., 10th floor, 617-882-7100; rafflesboston.com